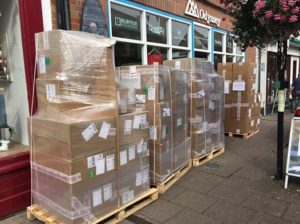 Our first major delivery of the Winter 16/17 turned up this week, 60+ boxes from Burton Snowboards!
Pretty hardwork for a couple of days getting it unpacked and checked off, but honestly it felt a bit like all our Christmasses(?!) had come at once! So much good stuff! Particular favourites so far are the new Burton Namedropper, a sick looking freestyle deck, the Burton Oak Tech hoodie which we have in a few different colours, and the awesome new anon MFI goggle range…
On top of this we have had our first deliveries fromm Volcom and Protest, with so much good stuff still to come. Come and pay us a visit!